Lemtrada experiences
---
Find out what to expect when you start LEMTRADA treatment for relapsing MS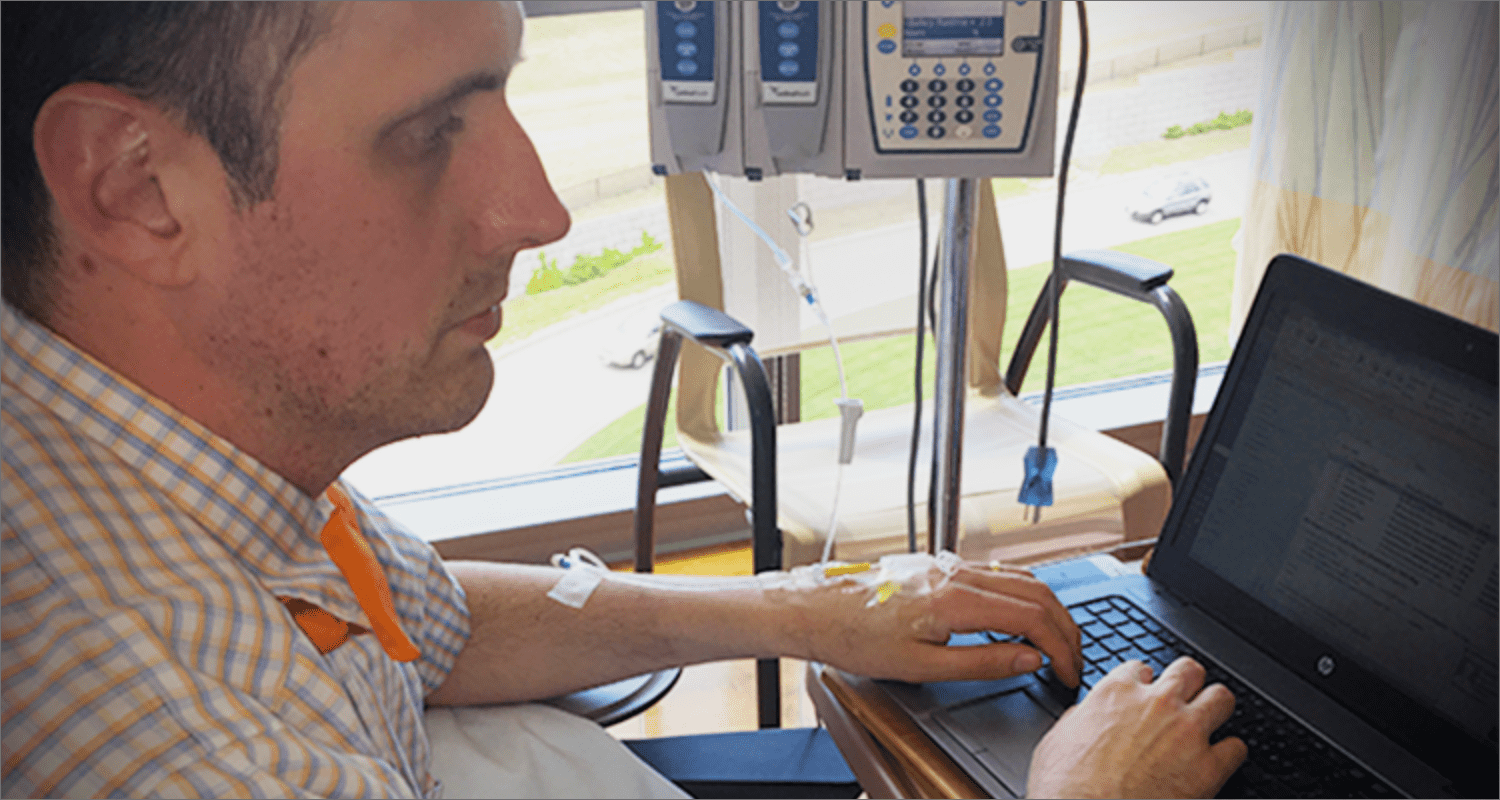 My LEMTRADA infusion-day experiences
By Chad, Husband, Father, Software Engineer
By this point you probably know LEMTRADA is given as an infusion intravenously. But what's it like? Does it hurt? How long does it take? How do you get ready for it? Since I have personal experience with LEMTRADA infusions, I'll fill you in on one of my typical treatment days, so you have an idea of what to expect.
Normally, I'm up at 4:00 am, so an 8:00 am appointment time seemed rather late, but it's not the infusion nurses' fault, so I didn't complain to them. Once I was checked in and in my seat at the infusion center, the medicine bags were hung on my IV pole with care while visions of sugar plums…oops, wrong story :)
Everyone is different and people may receive different premedications before receiving LEMTRADA—so I won't go into a detailed list of names here. I'll just say I was given pills to counteract possible side effects, an IV with steroids and an antihistamine too. And I was told about how important it is to stay hydrated throughout the day. That's where plenty of flavors of my favorite seltzer water came into play.
Whether you drink seltzer like me or prefer to drink water or other liquids to stay hydrated, see if you are able to get a chair, room, or bed close to a bathroom because you will have lots of fluids coursing through your veins that need to go somewhere…
After you receive your infusion and the drip bags of meds are empty, it's time to wait—for 2 hours or more—so the nurses can make sure you're okay and that you don't have any infusion-related side effects. For me personally, by the fifth day, I was tired and slept almost the entire time. Also, as I was preparing to leave, I started to get a rash on my face and my chest began to tighten. After a dose of antihistamines, I was cleared to go home a couple of hours later, but generally after the observation, if all is deemed well by your specially trained nurse, it's time to leave. On all days except for the fifth I felt well enough to drive myself home, but because my neurologist and infusion nurse said it was a bad idea to drive, I made sure someone else was able to drive me home.
So now you have an example of a typical day at the infusion center for your LEMTRADA treatment. Here are a few other things to consider since you'll be there almost the entire day:
Bring some entertainment like books, magazines, electronic devices, and headphones (if the infusion center allows them). And if you do bring electronic devices don't forget charging cables or extra batteries.
Some infusion centers will provide you some sort of food, but you can't count on it so bring something to eat (along with your yummy seltzer or water of course). You can also plan ahead by calling the infusion center to see if they serve food, and if not, ask what food you can bring in.
You might want to bring breath mints to counteract any odd tastes you may get from premedications.
Now, of course, everyone's experience with LEMTRADA is different, but I always say, "you learn something new everyday"—and it's no different when it comes to treatment. Throughout your infusion days, you'll meet new people and learn new things. That'll help you figure out what to bring, what activities to do, and what to wear. You might even learn something new about yourself!