After Treatment
---
WHAT TO DO FOLLOWING YOUR LEMTRADA INFUSIONS

I really appreciate the monthly monitoring. It's
good to know someone is looking after me.
RACHEL, LEMTRADA patient
BEGIN YOUR MONTHLY MONITORING
Certain side effects of LEMTRADA can happen months and even years after treatment. That's why it is important to begin monitoring after your first infusion and continue regular monitoring until 4 years after
your last infusion even if you're feeling well and do not have any symptoms from LEMTRADA and
relapsing MS. Monitoring involves:

Monthly blood and
urine tests

Ongoing symptom
self-checks
Yearly skin
exams
SELECTING A MONITORING LOCATION

LAB
Testing at any LabCorp® or Quest Diagnostics™ patient service centers.

HEALTHCARE PROVIDER'S OFFICE
Samples can be taken at your healthcare provider's office. With this option, you may incur a co-pay for your doctor's visit. However, the cost of analyzing the samples will be covered by the LEMTRADA Central Lab Program.
Sanofi reserves the right at any time and without notice to modify or change eligibility criteria or discontinue this program.
Trademarks not owned by Genzyme Corporation or Sanofi are the property of their respective owners.
LEARN WHAT SYMPTOMS TO LOOK FOR
As a part of monitoring, you should perform regular body checks at home by yourself in a mirror, or with the help of a family member or friend, to examine for any physical changes. Use the tool below to help identify what to look for.
Select a symptom to learn about its impact.
Symptoms to Identify with Self-Checks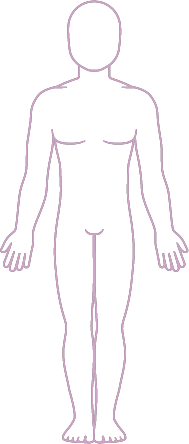 Contact your healthcare team if you experience any of the above symptoms, or new or worsening medical problems that have lasted several days, including changes in energy or mood or problems with thinking and/or balance.
CHOOSE WHAT YOU EAT CAREFULLY
People who are about to begin or have recently started treatment with LEMTRADA can be more vulnerable to a serious infection caused by listeria, called listeriosis. Listeria infections have occurred as early as 3 days after treatment and up to 8 months after the last LEMTRADA dose.
Read these food safety tips to help you lower the risk of listeria infection.
The foods listed here act on the immune system to reduce the production of inflammatory mediators and provide antioxidants that can help reduce inflammatory stress. Overall, eating healthy helps the body's immune system work better.
Fruits
Berries, oranges, cherries, tomatoes yes, tomato is a fruit!
Veggies
Leafy greens, like spinach and kale
Fatty Fish
Salmon, tuna, mackerel
Whole Grains
Oatmeal, brown rice, whole wheat bread
Olive Oil
Use it in cooking, sauces, and dressings